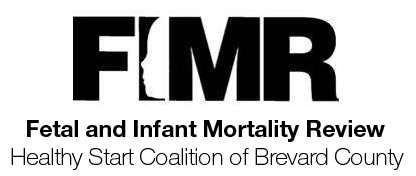 FIMR BREVARD CONTACTS
FIMR Mailling Address:
Healthy Start Coalition of Brevard
Attention: FIMR
PO Box 560868
Rockledge, FL 32956-0868
FIMR Phone:
(321) 424-1051 or (321) 634-6101
FIMR FAX:
(321) 326-8950
Lisa Haferkamp
FIMR Coordinator
(321) 634-6101
Melissa Berge
FIMR Administrative Assistant
(321) 424-1051
Barbara White
FIMR Nurse Abstractor
Diana Woodward
FIMR Nurse Abstractor
Infant mortality is a key indicator of the health of a community and its social and economic well‐being. From 2019 to 2021, an average of 1,269 infants in Florida died each year before their first birthday.
At Healthy Start Coalition of Brevard, we are fighting to reduce fetal and infant mortality. One way that we do this is through the Fetal Infant Mortality Review (FIMR) project. The Healthy Start Coalition of Brevard County has been contracted by the State of Florida to implement FIMR (Fetal and Infant Mortality Review) locally in collaboration with The Florida Department of Health and The National Center for Fatality Review and Prevention. Florida adopted the FIMR model in 1992 and FIMR in Brevard is now one of 21 FIMR projects statewide organized under Florida Statute 766.101 and funded by the State of Florida.
FIMR is a national, evidence-based model proven to reduce stillbirth and infant deaths. It is a community‐driven, action‐based process to review all the circumstances surrounding an infant or fetal loss and to find solutions to problems the family may have experienced accessing services. The purpose of FIMR is to reduce fetal and infant mortality by gathering and reviewing detailed information to better understand how a variety of local social, economic, cultural, public health, educational, and environmental factors contribute to the tragedy of fetal and infant loss. Additionally, FIMR teams use the findings to take action that can prevent future infant deaths and improve the systems of care and resources for infants and their families.
THE FIMR PROCESS
Goal: Decrease infant mortality and disparities through records abstraction, family interviews, case review, findings that relate to the root causes and recommendations and initiatives to improve systems of care.
Purpose: The Fetal and Infant Mortality Review is not to find fault but to identify gaps in maternal and infant services and to promote future improvements in the system of care.
FIMR members are made up of healthcare providers, county health departments, perinatal data experts, medical examiners, social service agencies, city council/county commissioners, hospital administrators, community advocates and others with a broad social, economic, cultural and environmental background. They participate in one of two workgroups: the Case Review Team or the Community Action Group.
FIMR CASE REVIEW TEAM
The Case Review Team is the "information processing" group. This is the team that reviews and analyzes medical case extractions and family interviews to develop recommendations as to what services, systems and/or policies should be created or improved.
The Case Review Team (CRT) commits to:
A signed Confidentiality Agreement before attending the first meeting
One, 2 hour virtual meeting once per month
Time to review Case Summary Reports prior to monthly meeting (2‐4 cases)
FIMR COMMUNITY ACTION GROUP
The Community Action Group is the "champion for change" that has the political will and resources to develop and implement solutions based on the recommendations from the Case Review Team.
The Community Action Group (CAG) commits to:
One, 1‐2-hour meeting, once per quarter
Time and resources to implement an Action Plan created by the team
CAG may respond to issues that are broad or politically complex and/or may change over time, so time and resources needed to implement change could vary.
If you are interested in learning more or joining the FIMR Project, please call Lisa Haferkamp, FIMR Program Coordinator, at (321) 634-6101.